Chelmoutsi Castle, Camping Fournia Village Kyllini beach tent camper restaurant
Chelmoutsi Castle, Camping Fournia Village Kyllini beach tent camper restaurant
Chelmoutsi Castle, Camping Fournia Village Kyllini beach tent camper restaurant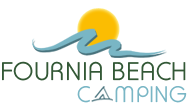 Book online
Castle of Clermont (as it was called by its French owners) or as it is known in Greek Chlemoutsi or Chloumoutsi is located at the top of the hill chelonata (220 m altitude) near the village Kastro, in the westernmost cape of Peloponnese, overlooking the Ionian Sea. Today, it is perhaps the most important attraction of Kyllini.

Built in 1220-1223, during the Frankish period, by Geoffrey II Villehardouin. Whoever possessed this Castle, during its period of prosperity, could control the entire Peloponnese. The fortress walls offer a panoramic view of the island of Zakynthos, Kefallonia, Ithaki, Lefkada and to the east across the plain of Ilia.

The fortification architecture of the impregnable Castle is exemplary and applies innovative defensive techniques for the the era of its construction.

Inside the walls Franks began to cut their first coins a few years after its construction.