One Space Bungalows, Camping Fournia Village Kyllini beach tent camper restaurant
One Space Bungalows, Camping Fournia Village Kyllini beach tent camper restaurant
One Space Bungalows, Camping Fournia Village Kyllini beach tent camper restaurant
One Space Bungalows, Camping Fournia Village Kyllini beach tent camper restaurant
One Space Bungalows, Camping Fournia Village Kyllini beach tent camper restaurant
One Space Bungalows, Camping Fournia Village Kyllini beach tent camper restaurant
One Space Bungalows, Camping Fournia Village Kyllini beach tent camper restaurant
One Space Bungalows, Camping Fournia Village Kyllini beach tent camper restaurant
One Space Bungalows, Camping Fournia Village Kyllini beach tent camper restaurant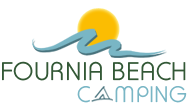 Book online
One Space Bungalows
Inside the area of camping are located, at pentet, the One-space Bungalow, next to each other.
Their size is about 35 m2, without differences. They have one room where the bedrooms (4 people) are, a kitchenette, air conditioning, television and bathroom. Each apartment has its own spacious balcony with table and overlooks the lush camping area and the Ionian islands of Kefalonia and Zakynthos.
They are ideal for couples and families.
Important Notices
All personal items such as towels, linens, cutlery, glasses, cleaning materials is our concern and there are already inside the apartments. Also, we make sure to replace them.
Customers on departure day are asked to leave the room until 11:00 a.m. to be cleaned and ready for future use.
Prices for 2 Persons:
50 euros up to 10 July
60 euros from 11 July to 25 August
50 euros rest of season
Extra Persons 6 euro per overnight


Bungalows Facilities

TV
Bathroom
air-conditioning
2 to 4 beds

Small kitchen

Air-condition

Refrigerator

Big Terasse